Spar had teamed up with 'The Tree Council of Ireland' as their new partner. National Tree Day is organised annually by the Tree Council. Each year a theme is chosen for the campaign to promote trees and the vital part they play in our environment and each year a different native Irish tree is featured. It has been enthusiastically supported by children, teachers, and parents. The idea is to give our plant and mother Nature a helping hand by planting lots of trees! As part of National Tree Day, up to 1,500 native tree saplings are made available through the campaign. Spar would like to encourage children to think about all we get from trees, how they enhance our communities and are wonderful neighbours to the environment. There are spar stores in over 400 communities throughout Ireland so being able to show children and their families how they can make more sustainable choices that support their community is really important to us. Giving children the opportunity each year to put down the tools for the day and reconnect with nature and enjoy the natural world around them. It is a great cause for celebration. This year the Wild Cherry was the chosen Irish native tree.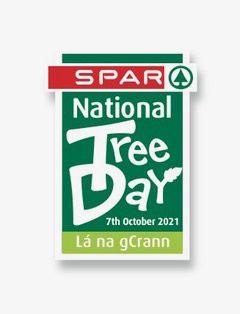 At SPAR, we believe that the future of our business and the society within which we exist are intertwined. This is why we have chosen to use the phrase ''My SPAR our tomorrow'' as a public commitment to the future of our brand and our country.
Our commitment to the future is based on careful consideration of SPAR's values of family, passion and entrepreneurship and how these align with the sustainable development goals, as well as the government's National Development Plan.
We further understand that making a significant impact can only be achieved through authentic, meaningful collaboration with our stakeholders, in order to create a new future together.